Since 1941, Texans have been drawn to the lush beauty and rich blue waters of Garner State Park.
The consistent temps of the Frio River with Old Baldy Mountain towering in the background have made it the most popular park in the entire state.
My partner and I spent four enchanted days in this well-maintained park soaking up its natural powers and letting go of the daily grind.
Learn the history of Garner State Park, what its campsites look like, which trails are can't-miss, and how you can get the most from your experience staying at Garner State Park.
A Little History of Garner State Park
To understand Garner fully, you have to go all the way back to the 1920s when the Magers family settled in the area.
The German immigrants were the first to take roots on the land and as automobiles become more accessible, people began adopting a popular vacation pastime known as camping.
The Magers opened up their land to campers and it quickly became one of the most popular regions in the area.
Over time, local citizens who grew up swimming the blue waters acquired the land and the Civilian Conservation Corps was enlisted to develop it for public use.
The CCC has had its hand in many of the state parks that exist today in Texas. Once construction was finished the land was donated to the state and named after John Nance "Cactus Jack" Garner who was an Uvalde native and Vice President from 1933-1941.
The park doubled in size in 1976 when over 790 acres were donated to the state, creating what is now Garner State Park.
Heading Into Garner State Park
Unless you've grown up in the unfolding landscape of Texas Hill Country then you don't quite know what you're in for.
Driving into Garner State Park is almost as good as actually staying there. Rachel and I came from Austin so it took us around 3 hours to get there and we took the southern route which follows I-35 the whole way.
Almost all Texans know traveling down the I-35 corridor doesn't have much to offer in terms of scenery, but it's when you start getting outside of San Antonio where things get really interesting.
You'll have an hour and a half from SA to Garner but it's plenty of time to absorb the ever-growing hills and lush landscape that starts to engulf you.
We've been to state parks close to where we live in Austin that take only 20 minutes to get to and there is something underrated about your campsite taking a while to get to.
The longer the drive the more you let go of those emails about financial reports and texts from relatives about their latest drama.
When you get to the park not only has the anticipation been building but you're mentally ready to receive the entire experience.
And there aren't a lot of parks that can mentally get you ready to fully let go than Garner.
Once you get to the entrance you'll head inside the actual headquarters building to pick up your reservation pass.
Lodging and Camping at Garner State Park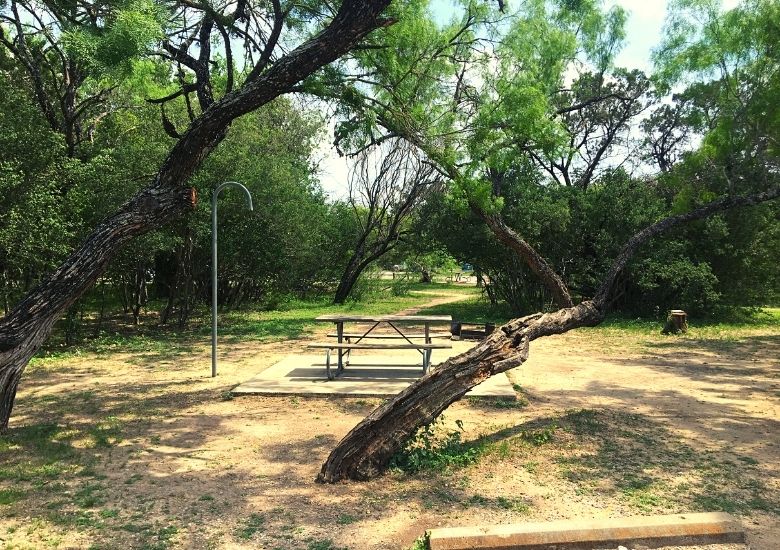 Being the most popular state park in Texas comes with its share of considerations.
You'll always want to make a reservation well in advance regardless if you're planning on staying several days or just want to grab a day use pass.
The most popular lodging options, like cabins with a fireplace, go super quick so you'll want to set reminders from the website to be alerted when they become available.
Garner has 372 different campsites available throughout the park including:
17 cabins (13 w/ fireplace) | $130-$140
199 electric campsites | $22-$26
7 full hookup | $35
117 water campsites | $15-$20
33 screened shelters | $30-$35
1 group camp | $400
Some of the sites have specific requirements like a minimum stay or a deposit and you can find the full details on the Texas State Park's Fees and Facilities page.
Old Garner and New Garner
Garner State Park is split into two different parts: old Garner and new Garner.
Old Garner is an absolutely gorgeous area where you'll find all the unique activities and buildings. Mini golf, a gift shop, ice cream shop, major swimming areas, and tons of sites are all located in this section of the park.
The only problem is everyone else knows that too. It's a competition to get one of the sites here and even if you do get a good spot it will be packed during peak months.
New Garner is tucked away in the northern part of the park and although you could technically hike down to old Garner most people will be driving to the different areas.
Where We Stayed
We stayed in new Garner in the Live Oak campgrounds and had a beautiful time. We love being away from the high energy of the crowds and being able to relax without a ton of sounds going on around us.
But we're also in our thirties with no kids so we don't have the pressure of staying in a specific part of the park and we don't have the strong desire to be in the middle of the action like we did when we were younger.
Live Oak allowed us to enjoy a calm campsite to unwind from our chaotic daily lives while still having a small stream running behind the site to soak our feet in.
You can't really swim in the northern parts of the park but there is a decent stream running through that's about ankle high. A perfect length for putting a couple of chairs out and sitting comfortably with your feet in.
Garner Hiking Trails
There are 10 different trails in Garner ranging from easy to challenging including:
Old Entrance Road | Easy | 0.8 miles
Blinn River Trail | Easy | 0.5 miles
Frio Canyon Trail | Easy | 2.9 miles
Donovan Trail | Moderate | 0.7 miles
Foshee Trail | Moderate | 1.7 miles
Ashe Juniper Trail | Moderate | 2.5 miles
Old Horse Trail | Moderate | 0.5 miles
Bridges Trail | Challenging | 0.7 miles
Crystal Cave Trail | Challenging | 0.5 miles
Old Baldy Trail | Challenging | 0.5 miles
The majority of the trails are going to be on the southside of the park and a majority of them run into each other. It's easy to make up your own path and find a distance that feels comfortable for you.
Only the Frio Canyon trail is on the northside of the park in new Garner and it's also the longest single trail in the park.
The most famous is a short half a mile trek to the top of Old Baldy. It's a pretty steep climb up the rocky face and will take you around 45 minutes roundtrip.
Standing on top of Old Baldy gives you a beautiful birds-eye view of the Frio River and surrounding land, making it worth the trek.
Frio Canyon and Wildhorse Creek Trails
We were able to fit in a couple of trails during our stay at Garner; the Frio Canyon and Wildhorse Creek.
Wildhorse Creek runs into Old Entrance Road and creates a small loop so we choose to start off with this easy hike.
Before Garner created the entrance you see today they had an alternative entrance off Highway 83. The route we choose actually gave us a look at the old entrance which was pretty cool.
The Frio Canyon stole the show though with its amazing scenic views and subversive environment.
There were times you wouldn't even know you were in a state park. You'll get a little bit of everything on this wonderful trail from deep wooded areas to completely open spaces.
We had actually gotten into a fight right before going on the trail so we were having a surreal experience trying to absorb the beauty but also getting caught up in our own mess.
The beauty of the trail eventually won over when we finished. We both were able to let go of our fight and reconnect.
That, to me, is the beauty of a place like Garner. Nothing is quite as powerful as the natural, raw scenery you'll get.
Swimming at Garner
The most popular pastime at Garner State Park is swimming in the Frio River.
Huge Bald Cyprus trees line both sides of the bank making the scenery absolutely stunning.
Jumping in the water can be a bit tricky since there is only one area that is good to walk in from.
The rest of the bank is covered in gnarly tree roots that can be slippery and jut out into the water a few feet.
Once you do make it in you'll be welcomed by the chilly temps of the deep blue Frio River waters. It's usually around 68 degrees but temps will depend on what season you end up going.
The water doesn't really have a current but the depth will change as you move up and down the river.
The north side of the river is the shallow end and the further you move south the deeper the water will get until you can't stand anymore.
Not only will the huge Cyprus trees hangover you but you'll also get a picturesque picture of Old Baldy staring at you from a distance.
We loved jumping into the cool waters and spending time at the Frio. We arrived a little late to the park when we got there so our first priority of action was getting the swimsuit on and jumping in as fast as we could.
They have a bunch of picnic tables you can claim to put your stuff on and hang out but they go quick so you're better off showing up a little early to try to get a nice spot.
Helping Out Fellow Campers
There was a lady we saw as we were leaving who asked us if we could help her with her Kayak.
It turns out she was from around where we live and she had a cute dog with her so we didn't mind getting her on the water.
Getting the kayak in wasn't hard but she wanted to bring her dog with her on the kayak except it hadn't been fully trained yet. The pup was unsure of whether or not to jump on but eventually got settled.
When we finished helping her and walked away I took one more look back to make sure things were ok and as I did I immediately saw her dog jumping from the kayak into the water.
The woman frantically tried to stop the dog but once it jumped in she was jumping in right after to get her pup back.
She eventually got her pup back on the kayak and kept going as she floated away from our sight.
What You Can't-Miss At Garner
Hiking Old Baldy is one of the cant-miss trails in the park because you don't get that type of elevation often in Texas and the beautiful views of the Frio make it special.
There's a gift shop in old Garner that is pretty cool but if you really want a treat head over to the ice cream shop right next store. They'll plop on an overflowing scoop of ice cream and the flavor is incredible. It's a must-have in the hotter months when you need something to cool off.
The concession building has a large stone pavilion that was built by the CCC that has turned into a dance event every evening during the summer. Dancers have been coming since the 1940s but make sure you get there early because the parking lot gets full.
It might be small and a little weathered but playing a quick round of mini golf is a great activity to do at Garner. What other state park even has a mini golf course inside the grounds? It definitely has to be one of the most scenic mini golf rounds you'll ever play.
What to Consider Before Going to Garner State Park
Garner is out in the middle of nowhere. If you need anything that you didn't bring with you there aren't many options.
There's a store inside the park, a general store right outside the park and after that you'll have to drive 20-30 miles to find the nearest town.
You won't have any internet at Garner either. There is, however, one place you can find connection and that's at the visitor center.
We were actually in the middle of trying to rent a home in a new town and we were offered a lease while we were camping.
Since competition for the place was heavy the landlord required we sign it within 24 hours to hold the home.
Luckily, we were able to hang right outside the visitor center and fill out all the paperwork before heading back to the site with a new lease.
Garner gets packed, like really packed. If you go during the peak months and expect an isolated experience where you and your family are able to enjoy whatever you want whenever you want your trip might not go well.
Just remember you'll always be a little surrounded by people and if you ever need something from someone just ask politely. Campers tend to be a much happier group than others.
How Long Should You Stay at Garner?
The ideal stay for Garner State Park would be about 3-4 days.
You want time to be able to enjoy activities but you don't want to cram everything in so that you need a vacation from your vacation.
A short stay isn't going to cut it because there will something that you really wished you could have done but just ran out of time.
Whether that's grabbing some ice cream, dancing at the pavilion, or hiking the different trails.
A pretty long stay could be doable but unless you have plenty of practice staying in the outdoors for long periods of time it can eventually start to wear you down.
Exploring Garner State Park
Getting to spend time in Garnet State Park was a great experience. The scenery is beautiful and there's so much to do that it feels like a different park every day. The campgrounds are well-maintained and the staff was incredibly friendly and helpful.
There's honestly something for everyone at Garner and it's a great place to visit if you're looking to get away from the hustle and bustle of everyday life. I would definitely recommend giving it a try if you're looking for a new camping spot.