**If you are in a hurry I recommend the Legit Camping Two Person Hammock as the best two-person hammock for its large 10-foot width and its protective layer around the rope.**
I'm from Texas so anything bigger is automatically better but, as it turns out, the same is true with double camping hammocks. You can fit more people inside, it has room for extra accessories, and it's almost just as light as a normal size hammock.
In this blog post, I'll highlight 10 of the best two-person hammocks on the market right now. We'll also give you a breakdown of what makes each one special.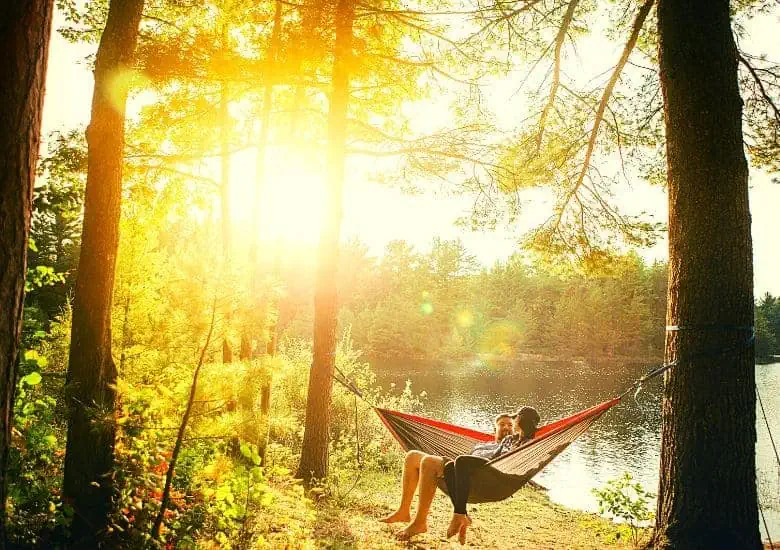 Choosing the Best Two-Person Hammock
Many of the two-person hammocks come with generally the same equipment: straps, carabiners, and stuff sacks.
The only way to understand which one is better is looking at a few key factors.
Using the expert tips below when factoring in your decision on which one you think is the best choice.
How You Plan on Using Your Two-Person Hammock
If you're car camping and have the room, you won't mind the extra gear needed for a spacious hammock with a stand.
But, if you're looking for backpacking hammocks and need more portability, you'll want a hammock that folds up into a stuff sack.
There's even one bug net hammock that protects the opening with a fine mesh to keep insects out.
How you plan on using your hammock is exactly what will determine which type you buy.
Size of your Two-Person Hammock
When a hammock is designed for two, you're going to need a bit more size to accommodate both people.
While most of the hammocks on this list have equal width sizes, you'll find the length around 10 feet.
It's enough to fit more campers and you should have no issues fitting a couple of people inside each one.
Using it for one person will give you plenty of room to fit a sleeping bag on cold nights.
Even for the larger-sized options, the hammock itself still won't be very heavy.
You'll have plenty of space for two and it'll also be easy to carry.
Double-Sized Hammock Ease of Use
Most people don't want to try a hammock because they are known to be tricky to tie up.
This may have been the case years ago, but the hammocks available today have a great suspension system that makes it easy for a beginner to set up.
You want to make sure you have as little to be responsible for as possible when it comes to setting up your hammock.
Although all the options on this list have some form of quick setup, only a handful make the process possible to complete in seconds.
Weight Capacity of Double Hammock
An obviously important factor in choosing a double hammock is the maximum weight capacity.
Having two people instead of one will require more durability from your hammock to keep multiple people safe.
A maximum capacity higher than 400 pounds is the best for having a strong and durable hammock.
You'll find an option on this list that can hold over 650 pounds, making it trustworthy when adding more people and gear inside.
Materials Used
The most common materials you'll find are nylon hammocks.
These parachute fabrics are strong and can withhold a lot of weight without breaking or tearing.
They are also great for traveling because they fold down incredibly small for backpacking trips.
Hammocks with a stand are usually made with weaving techniques and can be stiffer and more durable, it doesn't travel well at all.
You'll want to make sure your carabiners are made of high-quality materials like stainless steel and your ropes will hold up over time.
The Legit Camping double hammock is just as large as any other on this list.
It holds up to 500 pounds and has a 10 foot length, so you'll have no problem fitting at least a couple of people at a time.
What makes Legit Camping different from other hammocks is the protective covering over part of the rope.
The rope system is easy to set up and beginners will have no trouble getting it up and secure in minutes.
You can fold your hammock and pack it in the stuff sack for easy transportation.
It's the perfect size and portability to take it backpacking for you and another.
You'll get the durability and size for double camping and the set up is easy with the Legit Camping hammock.
If you don't mind a little setup then the Suncreat hammock is a perfect choice.
The marine varnish spreader bars are 55 inches wide and can hold up to 450 lbs, so you and another person will have no problem relaxing at the same time.
You won't have much trouble setting up this extra-large hammock because of the easy assembly system.
Once you click the male and female parts together the hammock attaches easily to the stand.
There's even a polyethylene-stuffed head pillow attached to the hammock that makes it easy to lay back and relax.
While not as portable as some of the other hammocks on this list, the Suncreat doesn't even need any trees and is as stable as they get.
Campers who prefer to be exposed in the outdoors while they sleep can count on the G4Free camping hammock with Mosquito Net to keep them protected.
This 9'5″ long hammock holds up to 400 pounds and comes with a completely enclosed mosquito net that is also removable.
The setup is slightly more involved with the mosquito net but there are two carabiners to make tying to the tree easy.
There are two tree straps with multiple holes for height adjustment and carabiners for easy setup.
The hammock even folds up small enough to fit inside a stuff sack, even with the mosquito net attachment.
There's even a side organization back for keeping your small items.
For complete protection against insects, while camping, the G4Free hammock with mosquito net will keep you uninterrupted.
Wise Owl is a trusted outdoor brand that makes a variety of accessories that hold up under the difficult conditions of the outdoors.
The double camping hammock from the brand is the perfect choice when backpacking or hiking to your site.
It needs a couple of trees to set up but it can hold just about 500 pounds and only takes a minute to tie up.
You'll get a couple of carabiners, a storage bag, and two 9-ft talon straps. Each strap has 5 loops so you can adjust the height.
The entire hammock only weighs about 24 oz and is made of parachute nylon.
You can even throw them in the wash when unpacking from your trip.
With a name like Bear Butt it's easy to assume the gear will be as nonchalant as the name, but that couldn't be further from the truth with this 2-person hammock.
It's a portable hammock at just 24 oz and comes with its own storage bag for convenient travel.
You can easily fit a couple of people or even just you and your dog with the 500 pound capacity.
The 10-foot-long hammock should also provide plenty of foot room if you lay in it solo.
To make the deal even sweeter, Bear Butt adds a couple of polyester straps with carabiners to make setup easy and convenient.
The side pouch that attaches to the side of your hammock is a nice touch for storing smaller items like your wallet or keys.
Overall, the Bear Butt is a brand you can trust and the hammock is durable enough for two people headed to the outdoors.
The Kootek matches the size and weight capacity of any other on this list.
You can add up to 500 pounds in the 10-foot comfy hammock designed for two people.
You'll get the same two-strap and carabiner combo that comes with most of the best 2 person hammocks.
It's also flexible enough to fold down and fit into a stuff sack so you can take it anywhere you end up camping.
Each of the straps are 10 feet long and they have up to 19 loops built-in for easy height adjustment.
With the carabiners, you're getting everything you need to get quickly set up.
It comes with a 660-pound capacity, topping this list as the most durable choice in the outdoors.
You'll have no problem having a couple of people inside.
There are a couple of straps with up to 9 loops for adjusting the height and a couple of carabiners for easy setup.
The two-person hammock is made of light, breathable fabric that's comfortable to sit and lay down in.
With as much weight as it can carry, it's surprising that this can be called a lightweight hammock.
The straps are just over 8 ft long so you shouldn't have a problem wrapping them around a tree.
Two-Person Hammock FAQs
Are double hammocks worth it?
Yes, a double hammock comes with more sleeping space, better support for two people, and extra room for one person to move around. They are just as portable, add little weight to your gear, and allow more weight.
Are two-person hammocks comfortable?
Yes, two-person hammocks are arguably more comfortable than single hammocks. With a larger sleeping area, two-person hammocks offer more space and are long enough to accommodate any height. The large weight capacity allows multiple people and gear to be stored inside.
How much weight can a two-person hammock hold?
A hammock designed for two can typically hold up to 500 pounds, making them an excellent option for people of any size. The extra weight support makes two-person hammocks ideal for multiple campers or extra gear.
Relaxing With A Two-Person Hammock
With the options above, you'll be able to find a hammock large enough to fit you and another person while still being portable enough to take anywhere. Whether you're a beginner or long-time camper, a two-person hammock can make your camping trips more enjoyable and comfortable.
Picking The Best Two-Person Hammock
I recommend the Legit Double Camping Hammock as your top choice because the size is just as large as any other you're going to find and it has a protective casing around the rope. Instead of the fibers in your rope getting ripped up on hard bark, it'll last longer and you'll be able to swing in the sunshine with a friend by your side.