**If you are in a hurry I recommend the WhiteDuck Cotton Canvas Bell Tent as the best tent to live in for its long-lasting durability and ventilation options**
Waking up every morning surrounded by nature with a connection to something larger really puts life in perspective.
The only problem is surviving the torrential downpours during rainy season, the below freezing temps in winter, and the horde of bugs that attack year-round.
Achieving your dream is only a reality with a heavy duty tent that stays strong through any weather while providing comfort all year long.
Here are the best long term tents to live in that provide comfort and protection year round so you can finally find peace in the outdoors.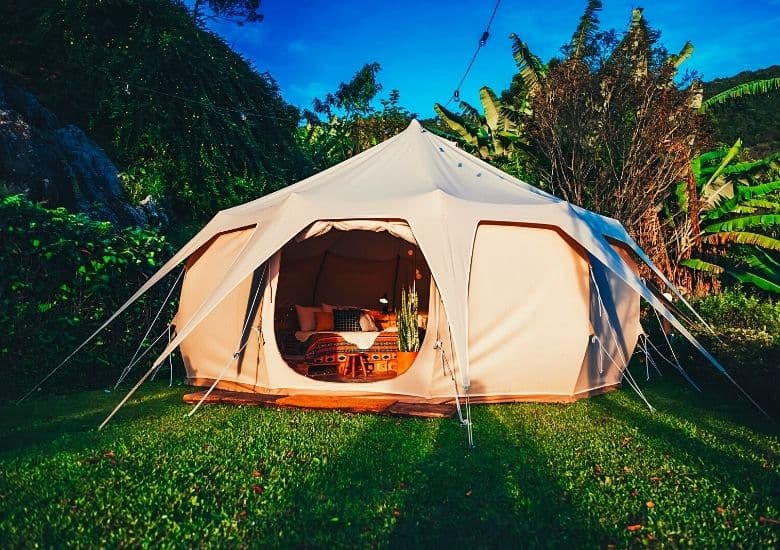 Best Tents To Live in Year Round
Below you'll find a variety of sizes and materials for live in tents that will perform better in specific weather conditions.
The WhiteDuck is 100% cotton canvas and is durable enough to last long-term while keeping you comfortable in all four seasons.
The canvas is water, mildew, and UV resistant, and you can even choose to have a fire retardant finish applied as well.
That will come in handy given that it comes with a 5" stove jack opening so that you can cook safely inside.
You will need to bring some fans into the WhiteDuck during the warmer months because temperatures can get fairly hot inside.
Since the WhiteDuck Cotton Canvas Bell Tent is good year round the price generally hangs around the same place all year but you can find some deals if you check often.
The button below will help you check out where the price is at right now.
There are few other tents on this list that seem to have been built with the intention to live inside but the Coleman 8-Person has all the right features to make you comfortable in the outdoors.
Complete with a full built-in closet you have a hangar bar for putting up your clothes and mesh storage shelves underneath for shoes or more clothes.
You also get an E-Port access hole where you can run an electrical cord through to power up a fan or other electronics.
You'll be reminded of home when you enter and exit because of the hinged door you can pull easily open and it will automatically close behind you.
The six mesh windows and mesh ceiling provide plenty of ventilation in warmer months.
If you live in a warmer climate and are looking for a tent that can bring a little bit of home to the outdoors then the Coleman 8-Person Camping Tent is the pick for you.
The GEERTOP Backpacking Tent is not going to be for everyone and especially if you are looking for a nice and spacious commode to live in the outdoors but if you need something extremely practical that will hold up in any weather it's hard to beat.
On its own, it has two large mesh entrances to provide plenty of ventilation but with the full coverage rainfly on top, it becomes impenetrable to weather conditions.
There are a couple of vents at the top of the rainfly so that you can still feel air flowing but the rest of the tent is completely covered. And the entrance extends outwards to provide a small vestibule where you can keep gear or keep open for some extra exposure to the outdoors without getting drenched.
The rainfly even has flaps that extend past the bottom of the tent so that any rain is pushed past your tent preventing water from forming near the bottom. The GEERTOP Backpacking Tent is going to be your go-to choice for a tent to live in that is very functional and weather resistant.
One of the only bell canvas tents on the list, the Happybuy is a canvas tent house you can use when you need a shelter in the outdoors that will hold up over time. One of the more unique parts about this design is that you can roll up all of the sides to make it appear as if the Happybuy was floating in air. Combined with the mesh windows and doors you have great ventilation options in the summer when the inside can get exceptionally hot.
And there's also a stove jack opening made of fire retardant material so that in the winter you can keep warm or cook all your dishes inside. The cotton canvas tent is waterproof but you may want to go over the seams with a protectant because others have had slight leaking issues. It's not quite as large as the WhiteDuck but you'll still enjoy the spacious interior and high ceiling after being inside for a while. This tent was made to keep you safe and comfortable for an extended period of time in the outdoors.
If you aren't looking to make quite the investment that a bell tent would require but still want a durable outdoor tent to live in for an extended period of time then the KODIAK should be right up your alley. Comfortable enough to fit 4-6 people, you have a 6'1" ceiling height so most people would be able to walk around inside without ducking. There are four large mesh windows on the doors that you can leave open for full air circulation and there's even an awning over the front entrance to protect from sun or rain.
You have a couple of ceiling air vents too at the top of your tent so that you can increase the air flow on hotter days when the canvas can hotbox the inside. If you are looking to move your shelter around and maybe that's why you didn't want to invest into a giant bell tent then the KODIAK presents some challenges because of its weight and packing time. But if you want to invest into a durable and reliable outdoor tent to live in you can trust in getting a KODIAK.
Living in a tent has never been easier than with the WhiteDuck Luxury Avalon Bell Tent. Made with 100% cotton canvas and towering at 8'6" there aren't permenent tent homes on the market with more spacious size and durability. Not to mention you get a total of 12 different windows so that you can adjust exactly how much air flow you want throughout the day. And you have 4 vents at the top ceiling to help with circulation but that's not all. You can even roll up all of the sides of the tent to leave it completely exposed.
The two large doors at the entrance also have mesh so that you can leave them opening while still being protected from bugs. And some of the mesh windows actually detach and you can purchase a sleeping pod separately and attach to the bell tent for even more room. It's water resistant and has a stove jack opening so you can cook meals inside or heat up the inside during colder months. There really isn't any question on which shelter is the best tent to live in, it just depends on if the WhiteDuck matches your budget.
If you're looking for a huge tent to live in full time, the KTT extra large accommodates up to 12 people so there's plenty of room for smaller groups. There are basically two large rooms inside you can use as a bedroom and as a living area. You have a couple of D-shaped doors on either side of the living room area and a gigantic screen wall you can open up.
There's a room divider so you can use have some privacy if anyone drops by your live-in tent. You'll want to make sure you apply some waterproof product to the KTT before you take it out. It's been known to leak a bit if you take it out of the box and go camping straight away. This is a great warm-weather tent that provides plenty of room and coverage for large or small groups.
The Core 9 Person Extended Dome Tent provides great weather resistance and air ventilation for someone looking to live outdoors. There are four official mesh windows but the ceiling is mesh as well and extends half way down the side panels to give you lots of exposure to the outdoors while still being protected from bugs. And the rainfly has full coverage across the top half with a slight awning extension over the front entrance for rain protection.
The dome shape means that you don't get as much headspace as other cabin style tents. So if you want a nice and roomy tent to live in where you can stand up and walk around this might not be your first option. But considering the rainfly has very good protection against wind and rain and you can fit up to 3 air mattresses this will be more than enough comfort while living outdoors.
What Makes A Great Tent To Live In?
The balance between durability, breathability, and size is the focus when finding a year-round tent.
What material the tent is made of, how that material affects its adaptability to weather, and how large the tent is are keys to lasting in the outdoors.
Tent Materials for Livable Tents
Canvas tents are thicker, heavier, and harder to set up, but the large material fibers provide better protection against rain, wind, and snow.
Those fibers are also superior in trapping heat and keeping your tent toasty on cold days.
That's great for winter months, but the hotter it gets outside, the hotter temps the canvas creates inside.
These sturdy outdoor structures last much longer than synthetic tents in extreme conditions and colder climates.
Polyester tents are probably what you think of when you imagine traditional outdoor camping. The thinner material is more breathable than a canvas tent.
Usually, they are built with a water-resistant material and prevent leaking when it's raining. They allow air to penetrate through the thinner fibers.
Often combined with mesh paneling on the windows and open vents near the floors, polyester tents create more airflow.
The tents are generally better for warmer climates and come with a rainfly for weather protection.
Weather Capabilities
As mentioned above, the canvas tent is going to fare better in colder weather when you need to think about extreme low temps that include snow or freezing rain.
The material is thicker and can support more harsh conditions. Also, large bell canvas tents will come with a stove jack opening so you move a whole stove inside to keep warm or cook meals.
Polyester tents will almost always come with a rainfly of some kind so that you can be fully protected from rain but because the materials are thin and are put next to mesh you can still get lots of air circulation to keep cool.
They will come with guy lines or stakes so you can secure it thoroughly during windy weather.
Size of Your Long Term Tent
Living in a tent doesn't mean you have to restrict your size.
Generally, if you want as much space as possible and want to feel like you have your own personal home in the outdoors then a bell canvas tent will be best.
You will definitely need to have a budget for this option as some of them can be more than a thousand dollars.
But the upside is that they offer enough space for several pieces of furniture inside or you can house up to 14 people in some of the choices.
If you are looking more for livable tents that will offer some space but still be affordable enough for your budget then a polyester tent can be the right fit.
These can store as many as 6 people inside and provide several features that can make it easy like a room divider or built-in closet.
There's even a small 2-person tent on this option that will be durable enough to hold up in the outdoors but might not be your top choice to live in because of the very small size.
Other Best Tent to Live In Features
Outdoor living isn't always easy but if you can find a tent to live in that includes all the features you need to make life comfortable, you might not even notice that big of a difference.
Warmer climates will need to worry about ventilation options and how you can stay protected from rain and wind without cutting off airflow.
Mesh windows, mesh ceiling, floor vents, and door design will all be important inclusions to consider when you're living in a tent.
Colder climates will want to have a stove jack opening or full coverage rainfly in order to protect against very low temps.
Without these elements you won't have enough coverage to make it possible to stay in the outdoors for very long.
There are other elements that can make it feel like home is just where the heart is.
Features like a built-in closet, room dividers, or even hinged doors can help your transition to living in the outdoors easy.
The Absolute Best Tent to Live In Full-Time
My recommendation for the best tent to live in is going to be the Whiteduck Cotton Canvas Bell Tent because of long-lasting durability and huge spacious interior. It might be tough to set up at first but considering you may not take it down for a year or two, it's the most durable option out there. On top of that, there's a stove jack in place so you can keep things warm during the winter months and the A-frame door makes it easy to move in furniture or beds.