**If you are in a hurry I recommend the HIKERGARDEN Tent-8-Person-Camping-Tent as the best tent for hot weather for its great ventilation and spacious interior**
Being from the south I have had a lot of experience doing whatever it takes while camping to catch the slightest breeze from a muggy, hot afternoon while still trying to stay protected from pesky insects. But nothing helps as much as having a tent with lots of mesh in the windows and ceiling for good ventilation. Or having an entire screened-in room you can put a couple of lawn chairs inside of. Learn which camping shelter is going to cool you down during the summer months by reading the best tent for hot weather reviews below.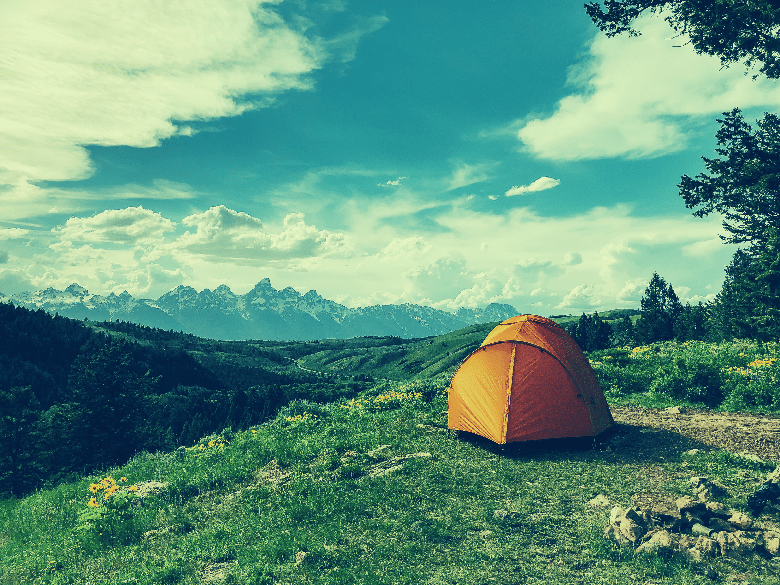 What Makes A Good Tent for Hot Weather
Ventilation
There are several ways you should be able to create some airflow within your hot weather tent. The ceilings of most modern tents are usually covered with a mesh that doesn't allow insects inside. And if it isn't raining you can leave this wide open for great night sky views and a cool breeze.
You can use this in combination with the mesh windows that come with all hot weather tents to start increasing the air circulation. Some even have floor vents that act as an added circulation tool to keep you cool. These look like small pyramids that will stick out of the sides of the tents near the floor.
Some of the best ventilated tents come with a screen room attached to the side of the tent. This allows you to completely open the front door and catch the breeze from the outdoors because you have a fully protected mesh keeping you safe from bugs.
Materials
One of the most important materials when trying to stay cool in the heat is no-see-um mesh. This means you have micro mesh that is lightweight and durable enough to withstand the beating of the outdoors. You can buy this separately for your home but most modern tents use this material for protection against bugs when you need ventilation.
You also want to be careful about the fabric the hot weather tent is built with and make sure it is breathable enough for you to take on your trip. A lot of synthetic fibers like nylon or polyester are a much more breathable material that will let hot air leak out so it doesn't turn into an oven while you're inside.
You want to stay away from anything with canvas because although this material is incredibly durable and will last for many years, it's much harder to keep cool because the air can become trapped inside. If it starts raining you're going to have a hard time not feeling muggy from the condensation that can build.
Seasonal Rating
Every tent comes with some kind of seasonal rating. This tells you if the tent is built specifically for a certain season in the year or if it will last throughout several seasons. What you want to look for in a hot weather tent is a 3 or even 3+ season tent. This means it was built with the primary goal of holding up well in spring, summer, and fall.
When you're looking at the design of 3 season tents you'll find there are usually more mesh windows and a larger mesh ceiling to increase ventilation. You'll also see floor vents, screened rooms, or shade awnings to keep you protected from the powerful sun.
When you get into the 4 season tents the primary focus shifts to being able to keep you warm or protected from bad weather like rain and wind. You'll see better rainflys and thicker materials being used for the tent walls. These are not going to be best for camping during the warmer months where the slightest breeze can make all the difference.
This is a tent made for large groups or families looking to camp comfortably during hotter months. The HIKERGARDEN is about 6 feet in the middle of the tent and could fit up to 3 queen size air mattresses. It also includes a room divider so you can have some extra privacy and separate the tent into two rooms. Or you could use it as a projector screen while both sides enjoy a good movie before turning in for the night.
The ceiling is covered in mesh and provides great views of the beautiful outdoors. There are also several small windows that open up to increase the breeze inside the tent. The zipper is two-way but can sometimes get caught on the doors so there seems to be a small design flaw. Otherwise, this is a great choice when needing a camping castle while you're out in warm weather. And for the price, it's hard to find a good quality built tent this size. Campers in large groups or large families should consider this option before heading out on a summer trip.
The spacious KAZOO Family Camping Tent has one of the better ventilation systems of warm weather tents you'll find on this list. The two, full-size D-shaped doors open fully at the front and back allowing for a great breeze while you're sitting inside. There's also no-see-um mesh on two large windows and across the ceiling. So when you take the rainfly off you'll have lots of airflow. On top of all that you even have a sunshade awning that extends over the front door. Set up a couple of lawn chairs and you can spend a hot afternoon camping without being beaten down by the sun.
Because KAZOO is a smaller brand their customer support isn't as good as some bigger name tentmakers like Coleman. But chances are you won't need a reason to contact them if you take care of your tent properly. Setting up in hot weather can be one of the most taxing parts of camping but you can set up within 30 seconds with this tent. It's like opening an umbrella. There's even some mesh pockets and a hook at the ceiling for hanging your lantern or fan at night. This is a luxury tent for those camping in hot weather and will provide a lot of ventilation for cooling down.
The ALPS is a solo camping tent that has high-quality materials matched with a great price. You should be able to cool down rather quickly because on of the sides is made entirely of mesh. The rainfly is a neat design that creates a small vestibule next to the door where you can put gear into. But you could also use it as some extra shade while you're hanging outside of your tent.
It's only a two-pole set up and shouldn't take long to get up and standing. You'll have a mesh storage pocket on the wall and a mesh gear loft at the ceiling to place all your valuables in. Which should be more than enough room for one. If you're a solo camper who wants something they can rely on that is also extremely portable and easy to set up, the ALPS should be a top choice. At 4 pounds you can take this with you anywhere you want to go and the ventilation makes it great for hot weather. This is probably going to be your go-to tent when you need a quick getaway from the hustle and grind.
If you're looking for a quality built hot weather tent with good ventilation you can count on the OT QOMOTOP. Four half windows are on all sides and there are two large D-shaped doors side-by-side that open fully. With the mesh ceiling and two floor vents you can feel a significant breeze flowing through when you're inside. There's also an included rainfly in case the weather takes a turn for the rest and you need to be protected from the rain.
You'll find a mesh storage pocket inside you can use to store valuables or small items. And if you have a bad back and prefer not to bend over you can use the mesh gear loft at the top of the ceiling. You can even keep the inside of your tent nice and clean by setting your shoes outside on the doormat. Which has the same waterproof material as the floor. You also won't have to deal with the sun bearing down on you while setting up your OT QOMOTOP because it only takes 60 seconds to get everything ready. With all the mesh windows and floor vents, you should have an easy time cooling down in this hot weather tent when camping.
Growing up in the south there are few things more coveted than a screened-in porch. And that's exactly what you get with the Coleman Steel Creek. The fully mesh covered room is great for placing a couple of camping chairs and enjoying a bug-free afternoon. The large D-shaped door also opens fully so that when you're going to sleep you can leave it wide open. Combine that with the mesh windows and you'll have a well-ventilated and insect free inside you can cool down in during the hot days of camping.
The Coleman Steel is meant to fit up to six people but realistically you should only bring about four people with you on your trip. And if you need some extra storage room you can always use the screen room if it isn't raining. It does take about seven minutes to set up so having a friend help will get you out of the sun faster. This is a great tent for campers who would love to enjoy the summer days outside but don't want to get eaten alive by insects. For us southern campers it's a lifesaver.
This is another Coleman tent with a wonderful screen room attached. Set up a couple of lawn chairs and you could be having an insect free afternoon while taking in the lovely outdoors. For us campers in the south that is true luxury. Because the front door is right behind the screened-in room you can leave the door completely open at night when you're sleeping. This will tremendously help the circulation in your tent.
There's also some mesh windows that help move the air around on muggy days. The back mesh window doesn't have any way to close without the rainfly which makes you choose between ventilation and privacy. On a hot day, it won't be much of a choice. There is also a storage pocket on the inside you can use to place important items inside so that they don't get left on the floor. This is a reliable choice for campers in smaller groups and will provide some good airflow thanks to the screened-in room.
The Coleman Sundome Tent is a great option for couples heading out to the great outdoors on a warm summer day. The large D-shaped door has a mesh window you can open along with a back mesh window of the same size. Combine that with the mesh ceiling that practically runs half-way down the entire sides of the tent and you will feel a nice breeze even during calm afternoons. There are even ground floor vents to help with the air circulation which is not very common for camping tents of this size.
You have a mesh storage pocket for storing valuable items and you also have an electrical port access for an extension cord. It wil take about 10 minutes to get everything set up so having a friend with you will help you from being stuck under the hot sun for too long. You can feel fully protected and comfortable in the Coleman Sundome when you're camping in hot weather. Campers in small parties of 2-3 will use this as their go-to summer tent because of its durability and ventilation system.
Summary
My choice for the best tent for hot weather while camping is the HIKERGARDEN Tent-8-Person-Camping-Tent because of its large mesh ceilings and roomy interior space. You could comfortably fit a group of 6 with all gear inside and you'll have a privacy divider you can put up to split the tent into two. The price is fantastic for a tent this size and the durability should last you several outdoor trips. You'll have excellent ventilation in the HIKERGARDEN making it a great summer tent for taking in the outdoors.