**If you are in a hurry I recommend the Gear Aid Seam Grip as the best tent seam sealer for its impressive coverage and high quality sealing capabilities**
We've all been there, some light rain that wouldn't cause Some sealants are good for silicone-based fabrics but others are appropriate for nylon or polyester.
Learn which one is going to keep you and your gear dry by reading the best tent seam sealer reviews below.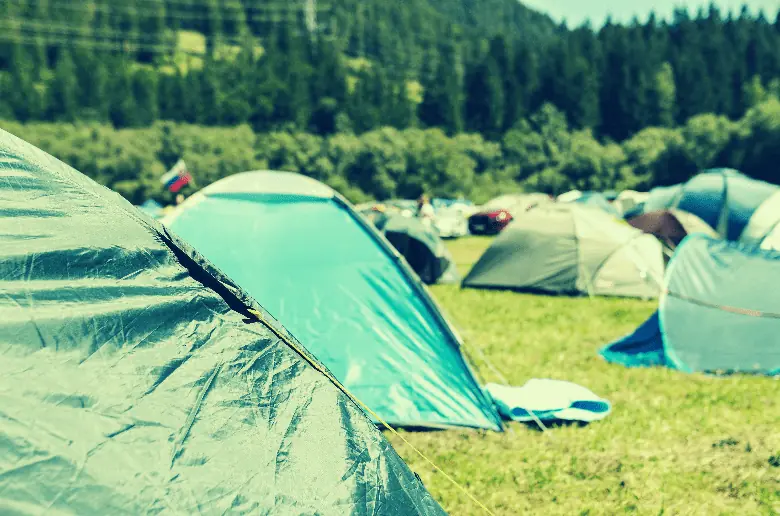 What Makes A Great Tent Seam Sealer
Viscosity
For first-time sealers you will appreciate the ease of use of a spray can when trying to seal up your tent from leaks.
Just like any other spray bottle, all you need to do is aim right at your seam and spray directly onto the area you are looking to treat.
The problem is that it's not as efficient of a process because you can't directly control the amount of sealant that is used. 
For other bottles that have a foam tip or brush tip applicator, the sealant will slowly leak out of the ends and you can use the applicator to apply as you see fit.
The sealant can come out slightly thicker and if you aren't used to this process it can be messy and sticky. 
Tent Fabric
It's important to know what the fabric of your tent is before purchasing your tent seam sealer.
The reason for that is because most seam sealers are made to treat either silicone-coated fabrics or polyurethane-coated fabrics.
Most options on this list are going to treat polyurethane-coated fabrics because they are a urethane-based sealant and are used to treat synthetic materials.
The silicone-coated fabrics will need a silicon-based sealant in order to keep from any leaks coming in through your tent.
No silicone sealant will be able to treat a polyurethane-coated fabric. As long as you are clear on what fabric your tent is made of you can be sure to purchase an appropriate tent seam sealer. 
Curing Time
Once you apply your seam sealer you will need to give your tent some time to dry.
Every product on this list will take several hours in order to fully dry and be ready to test in rainy weather so it's not a good idea to prepare your tent right before the rain comes. 
Not every product description is going to label the cure time so I would check the manufacture's website or contact them to see what the ideal time to dry is.
More than likely, you'll be ok after allowing about 6 hours of time but some on this list can be as little as 4 hours. The longer you leave it out, the safer you can feel that the tent seam sealer is dried out. 
Another option from Gear Air and another high-quality tent seam sealer.
The Seam grip comes in a 4 oz bottle with a built-in foam tip applicator to easily cover all tent seams.
From one bottle you should be able to protect up to 85 sq. ft. of nylon materials in not just tents but also tarps or outdoor gear. 
The Gear Air tent seam sealer will dry colorless and should remain flexible to the nylon fabric instead of stiffening it and changing the flexibility.
It takes about 4 hours to dry completely before you can start testing to see how it will protect from leaks.
For the size you get an impressive amount of coverage but the price is slightly higher than other tent sealers on the market.
If you don't mind paying a small premium for the Gear Aid, this is a tent seam sealer you can rely on in any outdoor adventure. 
There's a different level of consideration when you purchase a GEAR AID to seal the seams of your tent. It has a couple of different sizes you can choose from and the 1oz tube should last for up to 12' of seams.
You also get the choice of two different applicators depending on the type of seam you are sealing. And one of the best parts about the GEAR AID is that you can use it for almost any fabric.
One applicator has a series of tiny brushes in a circular design that allow a little of the sealant to be released on the seam.
The other applicator is a smaller, single brush that will function in the same way in order to properly seal all seams on your camping tent.
It has one of the higher price points but it's one of the highest-quality tent seam sealers that you can use for almost any fabric. 
The Coghlan's Seam Seal is a water based protectant with an easy to use applicator that makes the seam sealing process more efficient.
The applicator itself is a series of tiny brushes that will spread the sealant across your seam with more intention. You can use Coghlan's on nylon and other synthetic materials you're going to use in the outdoors.
That includes tarps, backpacks, or other gear you want protected from bad weather. 
There's no color left after drying and you can also wash your tent without damaging the waterproof ability.
On some sealers your tent fabric can be stiff and won't have the same flexibility but the Coghlan's won't cause any change.
At 2 ounces you will want to purchase a couple of these if you are treating a larger tent but it will due its job to protect your seams from any leaks if it rains.
The Texsport Seam Sealer, as the name suggest, is best for tents with polyurethane material and comes as a spray to get an even amount of sealant on all seams. It's washable and odorless when dry and can be used with a number of synthetic fabrics on backpacks or other outdoor gear. Even though the label says colorless you will have issues with this product displaying white on darker fabrics.
I would recommend not using the Texsport as a waterproofing agent for the entirety of your tent fabric but stick to the seams where it can have the most impact. The can is about 14 ounces so keep in mind how much tent you will need to be covering. If your fabric is made from polyurethane then the Texsport is a reliable option that will protect your tent from leakage through the seams.
Although small in size, the Iosso Products Seam Sealer will get the job done to protect your seams from any water leakage during your outdoor trip. Best used for polyester and other synthetic woven fabrics the Iosso is applied using the flat top by pressing hard onto your seam, allowing the sealant to come out.
It's meant to keep your fabric looking and feeling just as it did before application and shouldn't leave any residue after drying. One bottle is supposed to cover up to 50 feet of seam length. You can use it on vinyl fabrics but will need to have several coats to ensure your seams are completely sealed. The easy and direct application make the Iosso very user friendly but the small size wouldn't be ideal for larger tent sizes.
The Coleman Seam Sealer is a water based urethane formula that comes with a built-in applicator for applying to your tent seams. It's a 2 oz bottle so if you have a large tent you will want to invest in a couple of bottles but at the low price point it's worth the investment to protect a much more expensive tent.
The applicator is a foam tip that slowly disperses the tent seam sealant to get an even cover over all the seams. The only problem is the quality of the applicator is questionable and has been an issue for previous owners of the Coleman. But once applied there's no question you are going to be protected from any types of leaks while camping in the outdoors.
The Kenyon Seam Sealer is not a well known brand but the quality of the seam sealer is worth a consideration for your next polyurethane tent. It's a water based sealer with a foam applicator tip built-in to easily cover all seams for full protection. The bottle size is 2 oz so campers with larger tents will want to invest in a couple of bottles to make sure you don't run out when you need it. It's a reliable choice that you can count on to keep you protected. Campers who aren't satisfied with competitor results should consider using the Kenyon to keep your tent from leaking in rainy weather.
Summary
My choice for best tent seam sealer is the Gear Aid Seam Grip for its impressive coverage and high quality sealing capabilities. It can protect up to 85 sq. ft. from leakage in the fairly small 4 oz bottle. It's colorless and keeps the fabric in the same condition after use instead of making it stiff like other brands. It's good for campers looking to seal their nylon tents from rainy weather to prevent a water soaked outdoor trip.