**If you are in a hurry I recommend the Core Two Room Cabin Tent as the best large family tent for its ability to transform into two separate outdoor living areas**
If you're like most campers, you want as much space as possible when spending time in the great outdoors.
That's why a large family tent is a perfect option for your next camping trip. These tents are designed to provide plenty of room for you and your loved ones to spread out, relax, and enjoy nature.
In this blog post, we will discuss the best large family tents on the market today and what makes each unique. We'll also provide some key considerations to keep in mind before making your purchase!
What Makes The Best Large Family Tent
While looking through this list you'll want to know what to look for. Each tent on this list is different and has its own set of features that make them great tents for large families.
Here are all the key considerations to keep in mind while browsing the options below before it's time to take out your wallet and make a purchase.
What Type of Large Family Tent Is It?
You'll find a few different styles of tents when you're looking for one for the family. Canvas tents, cabin tents, instant tents, and dome tents.
If you're looking for a more permanent solution for your family's outdoor outings canvas tents are going to provide the perfect shelter.
Although it might take some time to get them up, once you do they'll be incredibly sturdy against any weather conditions.
Cabin tents are ideal if the square footage is big enough because the walls run a lot more vertical so you have more headspace when walking around inside.
Spending time with family is what it's about in the outdoors so you don't want to be fussing around all day setting up and tearing down your tent.
Instant tents provide an easy solution by making it possible to get your tent setup in under two minutes.
Size of the Tent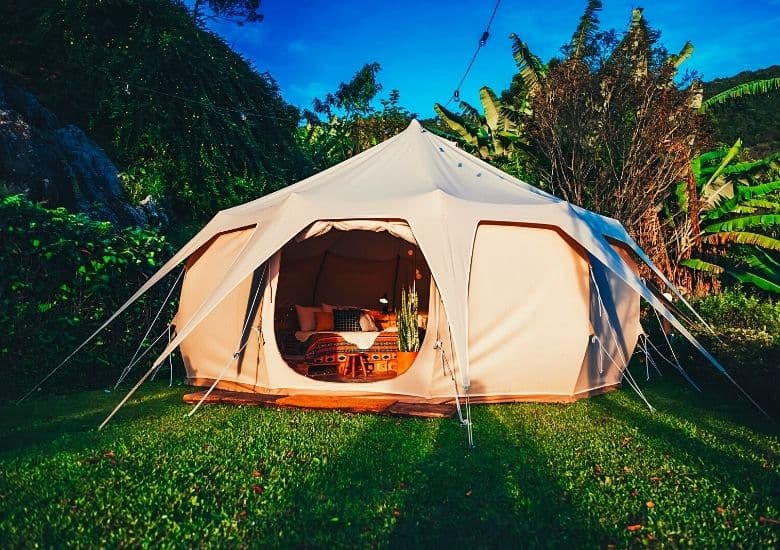 Tents are always going to claim they can fit more people than they actually can. You should always assume the tent can fit 2-4 people less than it actually says.
You have to account for the gear that you're going to keep inside and general space people need when they're sleeping together.
So if a label says you're buying a 10-person tent, you may only fit 6-8 people pretty comfortably.
In general, canvas tents are going to be more spacious for families than other kinds. They have a big layout you can stuff a bunch of people into and most families end up decorating them with furniture.
Tent Materials
Families are going to put a lot more wear and tear on tents than the average camper.
You want to make sure your tent is durable enough to withstand children playing, dogs running around, and all the other things that come with being a family while camping.
The best materials for tents usually consist of nylon or polyester because they're water-resistant and can handle a little bit of wear and tear.
Canvas tents are going to be the most durable material you can buy but the only caveat is you'll definitely pay extra for the privilege.
Weather Resistance
Almost all tents come with a rainfly which is an added protection from the rain.
The rainflys won't be full coverage so you'll always have your windows and doors exposed.
Most family tents will make up for this by adding floor vents you can open so more air flows through the tent.
Generally, all the tents on this list should be pretty good in most weather unless it gets super cold.
The only one that holds up to that weather is the canvas tent and it helps if you have a stove jack inside.
Setup & Portability
Canvas tents are the hardest to set up and take the longest. Not only that but they'll weigh so much it's not very practical to lug them around for too far of a distance.
Any of the nylon or polyester tents will be a lot lighter and they always come with their own carrying bag.
They still won't be ideal for hiking long distances because the size of the tent makes it naturally heavier to carry but they'll be better than canvas.
When you're looking for a combination of space and easy setup, nothing beats the Core Two Room 10-Person Instant Tent.
It's got enough room to fit a large family of 6-8 people with all your camping gear inside.
It also has a large D-shaped door on one side of the tent and huge full-length double doors on the other side of the tent.
If you use the room divider you could create two separate rooms with private access to both.
No other instant tent makes you feel at home like the Core Two Room and creates as many memories.
Love going to the outdoors with the family but want a little privacy every now and then?
The fortunershop Family Cabin Tent is the perfect solution with four separate spaces built into the actual tent.
Only three of the rooms have dividers for extra privacy but they all fit queen mattress beds so you could easily house 8 people plus a few more people in the middle common ground area.
There are even doors attached to each room so everyone can have their own private entrance.
It's going to take you some time to set up but when you want to feel like you just dragged a house into the wild, the fortunershop is it.
Not all the best large family tents are going to be for camping on a two or three-day trip.
The WHITEDUCK 4 Season Alpha Canvas Tent is a premier quality living tent you and your family can lounge in all year.
It's perfect for setting up in the backyard and decorating with a few beds and couches so the family can enjoy the weather while still getting a little protection.
There's even a stove jack flap you could use with an outdoor stove and several triangle windows to let a little sunshine in.
If you're looking for a secure outdoor shelter you can throw up on your property the family can enjoy year-round, WHITEDUCK is your solution.
The Core 12-Person Instant Tent is slightly different from the Two Room option above in that it has slightly more square footage and has two room dividers with the ability to create three living spaces.
There's also a full-length double door on one side of the tent and a large D-shaped door on the other so you could have two entry points.
They technically enter the same room though so it won't help much with privacy.
There are plenty of mesh windows to allow for ventilation and the partial rainfly will keep any water from leaking in.
There are a few things that make the Danchel 4 Season Canvas Tent worth your consideration over other yurts.
For starters, the A-frame doorway makes it a lot easier to haul your furniture and other decorations inside compared to the pure split opening.
You can also roll up the side walls so that it lets some breeze and the beautiful scenery in.
The Danchel isn't as big as the WHITEDUCK but it also isn't nearly as expensive either.
The Wenzel Klondike is a little smaller than some of the other tents on this list but it makes up for it by adding a huge screened sunroom area that's attached to the sleeping quarters.
On a day with some good weather, you could stick a bed in that room and transform your large 8-person tent into a 10-person tent.
There are a couple of old-timey looking windows on either side so it will feel nostalgic peering through the mesh windows.
The original 12-Person Campros was pretty great for families who wanted privacy but the updated version is even better.
The sides aren't nearly as sloped inwards so it's more of a straight wall tent and you can get a ton more walking space.
There are a couple of D-shaped doors and if you use the room divider it provides separate access to each room.
This cabin-style tent has a very similar design to the Wenzel Klondike except it can fit more people and it's from the Core brand.
There's an attached screened-in room you could use as a lounge area, eating room, or whatever you choose.
The main sleeping area is pretty basic with some organizational mesh pockets and the partial rainfly extends over the entire tent.
Nothing fancy about this Core 10-person Straight Wall Cabin Tent but it gets the job done for a large family.
There's plenty of walking space inside because the walls are practically vertical.
You'll also enjoy a room divider that separates the space into two halves so you can get some privacy.
This behemoth is the most spacious family tent you can find that isn't made of canvas.
The Tahoe Gear can fit anywhere from 8-12 people inside and it's just one large space until you use the room divider.
There's a couple of D-shaped doors on either side of the tent but they open into the same living quarters.
This Campros tent is a bit smaller than the other one on this list and it only has one door.
It does, however, have a room divider so you can get some privacy during the camping trip.
It's got plenty of ventilation without the rainfly on so you'll get plenty of scenic views while outdoors.
The Dome Tent Ozark Trail Camping Tent is a luxurious family tent because of the attached screened-in room.
What's great about the design is the screened room doesn't take away from the tent like it does with the Wenzel or Core 11-Person, it just adds more space.
So you can fit in a good 5-7 people inside and still have a lounge area or eating area or just an area for storage.
The Best Large Family Tent for Camping
Heading to the outdoors with your kids in tow means striking the perfect balance between ease of use and spacious comfort and no other tent provides it like the Core Two Room 12 Person Instant Cabin Tent. It's got a room divider to split the tent into two rooms and there are separate doors that allow private entrance to each. Core is also one of the most reliable and trusted outdoor brands out there so you know you're getting a durable and long-lasting product.