**If you are in a hurry I recommend the Wealers 4-Person Complete Messware Kit as the best camping plate set for its high durability, easy portability, and extensive amount of pieces included.**
Cooking outdoors is a fun and rewarding experience, but it can be difficult to do without the right equipment. One of the most important pieces of gear for outdoor cooking is a good set of camping plates. Plates that are designed specifically for camping offer several advantages over traditional dishes.
In this blog post, I'll discuss what makes camping plates unique, and we will recommend some of the best models on the market today.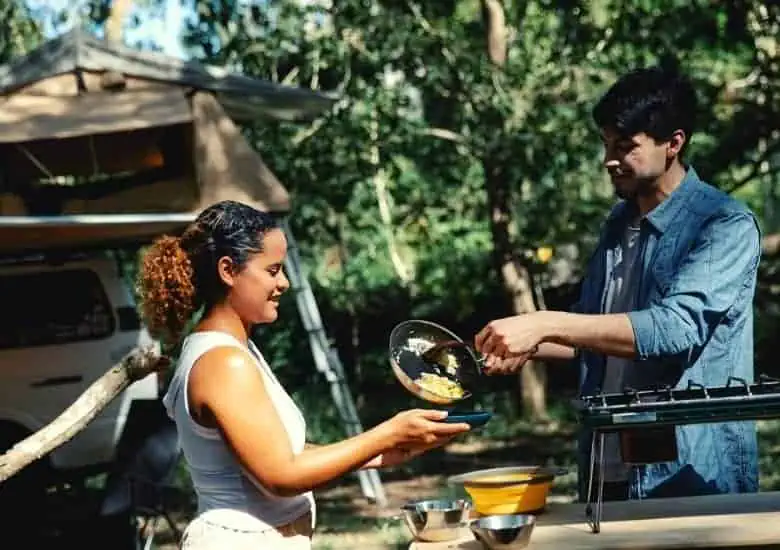 What Makes the Best Camping Plates?
Before you head to the outdoors and start cooking you want to make sure the camping plates you buy aren't going to leech toxic materials into your food. You also don't want them to break after only a couple of uses.
Here are all the considerations you need to keep in mind while looking through this list of the best camping plates for the outdoors.
Types of Materials Used
Not all camping plates are going to be made from the same materials. You definitely don't want to be using plastic materials when eating in the outdoors but stainless steel, enamel, and even nylon are all toxin-free.
Most plates worth buying are made from food-grade stainless steel. The material doesn't rust, doesn't chip, and will last you forever.
Some companies take their stainless steel and coat it with enamel. It doesn't really serve a functional purpose but it looks great and feels just like your dinnerware at home.
The only issue with enamel is the durability. It is much more susceptible to cracking or chipping and since you'll be using these camping plates in the outdoors, it's harder to keep in good condition.
Entire Sets vs. Individual Pieces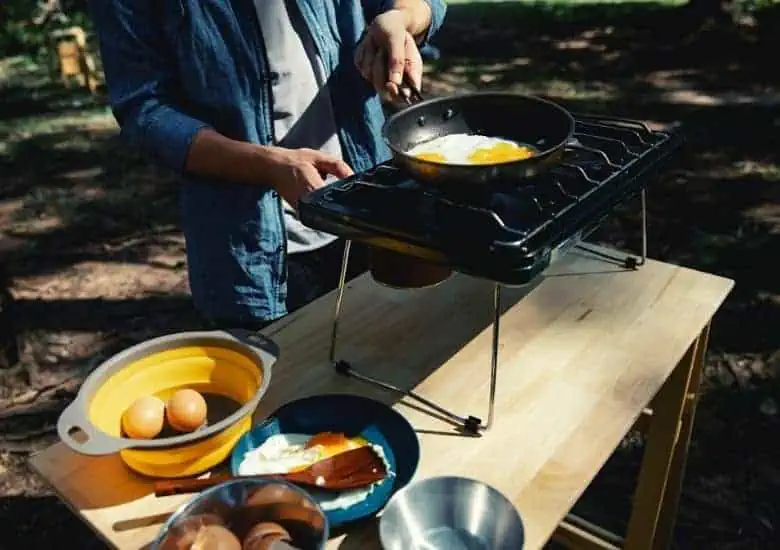 You can always find a single camping plate and take that with you to the outdoors but unless you plan on camping by yourself for eternity, you might want to think about getting a set, especially if you bring your camping table with you.
A set will come with a variety of plates, bowls, silverware, and cups. This is really convenient because you can cook whatever you want and know that everyone in the group has their own set of camping dinnerware they can use.
The only issue with sets is that if one piece breaks or is lost, you might have to find a replacement elsewhere because you might not be able to find an individual piece for sale.
Size of the Camping Plates
When you're buying a set, most of the outdoor dinnerware is sized so that it is convenient for you to pack and travel with.
They are usually smaller than what you have at home and if you're having a big outdoor meal, it may be hard to fit everything on one plate.
You can also find some individual camping plates that are huge and you'll be able to fit your appetizer, entree, and dessert all on one plate.
If you're a casual camper who goes out every now and then go ahead and buy the bigger sizes but if you're an avid camper you might appreciate the saved space and convenient packing more.
Portability
Camping is all about comfort and convenience so when you're cooking you want your dinnerware to be an extension of that concept.
You'll find some camping plate sets on this list that have a carrying case for every single item that comes in the set.
You can pack them in your car easily and even hike with them if need be so it's easy to add to your camping checklist or tie up to your backpack.
Other outdoor dinnerware sets don't have such convenience and make you figure out where you're going to store all your gear.
What you'll end up finding is the cheaper the gear, the less often carrying bags are included.
When you need outdoor dinnerware only one brand gives you everything you need and that's Wealers.
The 4-person Complete Messware Kit is your gift for outdoor cooking that will never outlive its purpose.
The stainless steel set won't rust or chip on you so you can keep it for just about as long as you want.
It comes with a complete set for 4 people so you don't have to worry if you have enough plates or bowls to get the job done.
What makes Wealers unique is the mesh carrying bags that makes it super simple to take these with you no matter how long the hike is. Getting this camping plate set will keep you prepared for the next several years so it's worth the investment.
Rivaling the Wealers 4-person set, this Coleman 24-piece Enamel Dinnerware Set has just as many cups, plates, bowls, and silverware as any other on this list.
You'll be able to serve four people in the outdoors with no problem.
The major difference is the enamel that Coleman uses to coat the outdoor dinnerware.
It's an interesting choice given it might chip off with consistent outdoor use but it does make the outdoor plates feel more like home.
You'll get a carrying case for the silverware but you won't have anything for the plates, cups, and bowls. Coleman has been making outdoor gear for generations so if you want a camping set you can rely on, this is a solid investment.
STANSPORT takes the design for outdoor camping plates and takes it up a notch.
There's a slim stainless steel silver lining at the top of the dinnerware and the rest is saturated in a deep forest green.
Although the design doesn't add to the functionality, it sure makes being in the outdoors feel a little more like home.
You'll get enough cups, plates, bowls, and silverware to serve four when you're cooking outdoors so the STANSPORT is a good option when you're in the wild.
Just as good as the Wealers 4-person set, the 2-person Complete Messware Kit gives you everything you need to enjoy some outdoor cooking with a friend.
Everything is made with the same stainless steel so you don't have to worry about it rusting or any enamel breaking off.
It even has the convenient carrying case you can keep all your items in to make hiking with these easy.
The food-grade stainless steel also means it's BPA-free and 100% toxin free.
The UCO is a departure from the previous camping plates because it uses nylon and silicone to produce durable and convenient outdoor dinnerware.
More for the single camper, it has one cup, bowl, plate, and two-piece spork so you'll get everything you need for a single meal in the outdoors.
The cup is collaspable which makes packing easier and it actually fits in the container the plate and bowl make when they are attached.
That's the other thing, you can actually store food in between the plate and bowl because it has a double silicone gasket seal.
You don't get much with the shopwithgreen 10-inch Wheat Straw Plates but what you do get will last you for years.
Made with wheat straw fiber, these camping plates are incredibly tough and are practically unbreakable so you don't have to worry about the wear and tear from outdoor use.
You'll get six plates in one set so they are perfect for bigger groups in the outdoors who just need a place to put their food.
When you want a camping plate set to get the job done in the outdoors, Odoland is here to deliver.
Food-grade safe stainless steel, dishwasher, and microwave safe, you can use this set for years and never had to give it a second thought.
It comes with enough pieces to feed a family of four so you'll have everything you need to serve up your great outdoor cooking including bowls, cups, spoons, forks, and knives.
The only thing it doesn't have is normal plates but the bowls act as your main serving plate.
You can't get much more straightforward than these HaWare Stainless Steel plates.
They come in a set of 4 so you can serve several people at the same time and they have rounded edges so no one has to worry about hurting themselves.
They're BPA-free and made from food-grade safe stainless steel so if you need something inexpensive to get the job done this is your solution.
When you're looking for a cheap and easy solution to get cooking in the outdoors the GSI Cascadian Table Set has what you need.
The complete set is one plate, one bowl, one cup, and a knife, spoon, and fork.
Made from 100% recycled polypropylene it's not the most durable or reliable set but it is better overall for the environment.
Just don't try to microwave or throw these in the dishwasher because they could end up warping and becoming unusable.
The Best Camping Plates for the Outdoors
My choice for the best camping plate is the Wealers 4-Person Complete Messware Kit. The stainless steel makes it incredibly durable and rust-resistant for the outdoors, which is huge. You'll also get convenient carrying cases for all of the items so it's super easy to pack and carry with you.