**If you are in a hurry I recommend the Sport-Brella Beach Chair as the best footrest camping chair for its detachable style footrest, canopy shade protection, and insulated cooler pocket.**
Camping chairs with footrests provide an extra level of comfort and support that can make all the difference when spending a long day outdoors. However, not all camping chairs with footrests are created equal, some are better than others in terms of quality, features, and price.
In this comprehensive guide, I'll teach you everything you need to know about camping chairs with footrests so that you can pick the best one for your needs.
How to Choose the Best Camping Chair With Footrest
At first glance, a lot of the chairs below have a footrest that's pretty similar in design. Similar builds and similar features make it hard to know which one is better than another.
After spending a few hours researching the different kinds of footrest chairs available, I pulled out six of the essential qualities you need to look for when shopping.
Comfortability of the Footrest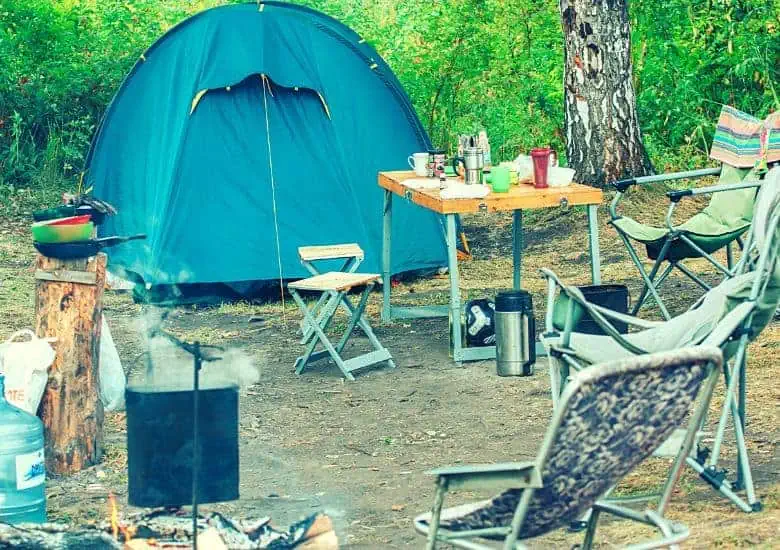 Chances are if you're looking for a chair that has a footrest you can kick your feet up on, you're looking for something comfortable.
While having any old footrest is probably good enough to give you at least some level of comfort, there are chairs on this list that take it to another level.
Imagine an adjustable backrest you can lay down almost horizontally with or a giant canopy hanging over top of you to protect from the sun's rays.
There are also padded footrest chairs that are great for relaxing but they also heat up when it gets warm outside.
Now imagine pairing your lounge chair with a cordless fan and you might not even need a tent to sleep at night.
Footrest Versatility
You'll find two major types of footrests that come with an outdoor chair: the separate footrest and the detachable footrest.
The classic footrest is completely separate from your chair and allows you to put in any position you want. You can even use it as a makeshift table.
The other version is the detachable footrest that can connect to the frame, so the chair is quite stable.
The fabric usually extends from the end of your chair all the way to the end of the footrest and you'll connect them using a zipper.
You won't be able to use the latter as a camping table at any point so it's worth considering whether you want something multifunctional or something comfortable when thinking about versatility.
Ease of Setup
Most of the chairs on this list are foldable, meaning they fold up in one piece without you needing to construct anything.
However, the footrests and all the other features are a different story.
Setting up chair canopies, head pillows, and footrests can take a little time if you've never done it.
That being said, there's nothing on this list you can't handle.
Setting up most of these chairs will take about five minutes max while a few might take up to 8 minutes.
Don't let a harder setup cause you to feel like you have to pass on your favorite option.
Keep long-term relaxation a priority over the short-term effort it'll take to set up your chair.
Durability of the Materials
Packing in a ton of features into a chair and selling it at a competitive price often means the manufacturer isn't using the most durable materials.
Thankfully, most of the chairs on this list are made with a powder-coated steel frame to protect from rust and a durable fabric that is resistant to outdoor environments.
Where you want to take a closer look is in the other types of materials used.
Mesh can be vulnerable to rips and tears and some chairs use it throughout.
Other options include extra padding covers that may get dirty and not be as resistant to tough weather.
Understand what type of weather your chair will go through and buy one that can withstand your local environment.
Additional Features
While most of your choices below come with some type of cup holder and a side storage pocket, there are additional features you won't see on everyone.
An insulated cooler bag is attached to a few armrests on this list making it ideal for storing a cold beverage of your choice and not having to get up multiple times.
You'll also see some additional storage pockets for keeping a few important items nearby.
The head pillow is another common addition that gives you just a little more support when lounging.
Sleek and packed full of helpful features that'll help you forget about all your responsibilities in life, the Sport Brella is the best camping chair with a detachable footrest you'll find.
For starters, it's the only canopy chair on the list that keeps you cool when the sun is out and you're getting burned.
The umbrella-sized canopy is UPF 50 and can adjust to practically any angle with the 3-way swivel.
That way, no matter where the sun is pointing, you'll be protected.
The only downside is it is harder to set up with all the moving parts.
The footrest is detachable so you can take it off whenever you're done resting.
That might be hard to accept though with the insulated storage pocket that keeps a few drinks cold.
With cold beverages being stored on one armrest and a cup holder with organizational pocket on the other, you won't be going anywhere anytime soon.
Finally, the chair comes with an adjustable backrest that lounges in three different positions.
Combined with the footrest, you won't get closer to a recliner sofa in the outdoors than the Sport-Brella recliner chair.
You won't find a padded chair that will wrap around your body quite like the Guide Gear Club chair that comes with a footrest.
Unlike other camping chairs that have an armrest with space below, the Guide Gear has fabric all the way up the sides and backrest.
The feature will help fight any wind and keep you warmer with all the padding stuffed inside the side walls.
There's even a pocket on the inside of your chair to keep items like a wallet or small fishing gear.
The steel frame is powder coated to prevent rusting and the legs fold up for easy transportation.
The only issue is the backrest and side walls don't fold down so it'll take up some space in your car or garage when stored.
The square ottoman is pretty standard compared with other footrests and sags slightly when your feet are on top.
You even get a storage pocket on the side for a phone or keys and a cup holder with a tie to secure your drink.
Whether you're camping in the cold or just want extra comfort while camping, the Guide Gear outdoor chair and footrest provide it all.
The Fundango chair is perfect for taking out on sunny days where the heat is trying to ruin your good time.
The entire folding chair is covered in mesh material so that when your body lays down it can still catch a breeze from underneath.
Relaxation is completely in your control with the footrest that you can attach or take off at any point.
Where the Fundango separates itself from other warm-weather chairs on this list is the three recliner position that lets you adjust the level of comfort you need.
You can lay back for a nap, sit up straight for talking with others, or sit slightly back for reading or lounging.
The Fundango Chair comes with a common cup holder and pocket to store small items and you can fold the entire thing up in the carry bag and head off to your site.
Unlike other normal camping chairs that come with a footrest, the Suntime Lounge Chair has a full coverage padding cover that goes over the entire thing from the backrest to footrest.
You don't have to keep the padding either if its warm and the padding starts to heat up.
The Suntime allows you to remove the entire cover to expose a mesh fabric that covers the footrest as well.
You can have it all, a chair that has extra comfort support and a cooling design that allows a breeze to come through the underside of the fabric.
Like the other reclining chairs on this list, the Suntime has an small pocket, a drink holder, and a cup holder built into the armrest.
with a three recliner position and footrest you can dettach, the Suntime is perfect for almost any type of weather and camping situation.
GCI Outdoor has several chairs and great camping accessories in its line of durable products that have been helping campers for years.
The 3-position Director's Chair is a simple design that is incredibly easy to set up, but because it doesn't fold down as much as other chairs you won't get a carry case.
That means it won't be portable enough to take on a backpacking trip and it'll take up more space when you're storing.
Otherwise, the GCI has a detached footrest you can move to any position that makes you more comfortable.
Other chairs have their footrest attached so you can't actually adjust it.
You'll also get an attached side table that comes with a built-in cup holder.
The best feature of the GCI Outdoor is the reclining chair feature that allows you to adjust the backrest to three different positions for ultimate comfort.
While the GCI Director's Chair doesn't have extensive features like others on the list, you'll still be able to kick your feet up and find comfort in the outdoors.
At first glance, the Fair Wind looks like any other camping chair with a footrest.
But, take a deeper look and you'll see all the details that make this durable recliner chair worth its value.
The adjustable lumbar support can help you get more comfort while lounging after a hard hiking day.
There's a built-in padded headrest pillow that works surprisingly well when you've got your feet kicked up and all the pressure is on your neck.
You can even adjust the armrest, so almost every part of the Fair Wind can be customized to your exact liking.
The footrest is detached from the chair and has a soft top that sinks in the middle when you're feet are on top.
You'll get the standard cup holder on the left side but you'll also get a small insulated storage pouch for a couple of drinks.
Not only can you relax, but you can also have a cold beer while you kick back.
While simple and straightforward, the Fair Wind provides all the convenient details you need to be comfortable outdoors in your lounge chair.
The Suntime Oversized Moon Round Saucer chair is a perfect combination of padded comfort with the convenience of a footrest that dettaches.
It's got a rounded backrest like the Guide Gear but it has a much larger footrest that truly allows you to kick back and relax with more support.
The extra padding is provided by the moisture-wicking breathable fabric that should keep you cool even though your body is creating heat in the chair.
There's a side pocket for a drink and some small items. It helps to not have to track down your phone every hour because you can't remember where you put it.
You can remove the footrest at any time to turn it back into a regular chair and it folds up easily for convenient traveling.
You don't get any of the adjustable backrests or insulated storage pocket but the Suntime Saucer chair is durable and provides an extra level of comfort.
The Redcamp is one of the best camping chairs for finding comfort while sitting in the outdoors.
It has the appearance of a regular outdoor chair but you have a footrest that transforms it into a recliner chair when it's time to take a break.
The chair also comes with an adjustable backrest that has two different settings for sitting and lounging so you'll have the perfect setup for napping or reading.
The footrest is removable and everything fits into the carry bag for easy transportation.
It travels so well you could take it on a backpacking trip without any issues.
The shape extends all the way from the base of the chair to the end of the footrest.
The cup holder and organizational pockets are pretty standard with reclining chairs but it's still a nice touch to keep everything you need close by.
It has a portable carry case and folds up easily so you don't have to worry about setup and teardown.
Chairs like the Redcamp have enough luxuries like the padded headrest to make investing in the durable build worth your investment.
Similar to the other Outdoor Living Suntime lounge chair on this list, the mesh version provides enough comfort to make the outdoors your personal living room while keeping you cool in warm weather.
The breathable material runs the entire length of the frame, so you can use the chair in hot weather and not have to sit in your own sweat.
The headrest is padded and adjustable so you can lay it down to 130 degrees for a full lounge, or keep it upright for more back support.
A convenient cup holder and organization pocket lets you keep anything of worth right by your side at all times.
The folding chair is perfect for traveling and fits into its small case with ease.
That includes its footrest which can detach anytime you want more space or attach when you need a more relaxing outdoor experience.
While other chairs may be more comfortable or durable, few others consider warmer climates that need breathability when camping.
When you need a footrest but want it to serve multiple purposes, the XGear 2 in 1 has you covered.
Instead of only being able to place your footrest in one position or have it completely detached, the XGear footrest is fully movable while still remaining attached to the chair.
It actually swivels from in front of your chair to the left side and acts like a side table while you're not kicking your feet up.
While technically any separate footrest can do this, none on this list actually stay attached providing you with better support and stability if you place drinks or food on top.
You'll be able to also adjust the armrest up or down to make them more comfortable for your posture.
Most of the features you'll find in other reclining chairs are in the XGear but you also get a swivel footrest on top of it.
What you see is what you get with the Kefomol Lounge Chair.
The two adjustable backrest positions give you a slight lounge, but not a lot compared to other options.
The Kefomol comes with an attached footrest for lounging and you can easily take it off whenever you want a more traditional setup.
It has a holder for your drinks built into the arm rest and a side pocket for extra storage.
The carrying case makes it easy to travel with or backpack to your site.
While you don't get any innovative features with the Kefomol that make it stand out from other chairs, it will still get the job done when you're ready to go camping
Camping Chair With a Footrest FAQs
Is it hard to set up a chair with a footrest?
Most chairs that include a footrest are foldable, making them easy to unpack and set up without much effort. The footrest is just as simple and only requires you to zipper one end of the footrest to your chair while connecting the two bottom structure poles to the chair legs. Other types require slightly more work but are just as easy for someone with no background.
How do I store a camping chair with a footrest in my garage?
Since most camping chairs that have a footrest fit into a carrying bag, they do not take up much room in a garage. You can either lay it up vertically against a wall in your garage or lay it down horizontally to stack on other items. For more space, secure two small posts sticking out of your garage wall and lay the chair on top horizontally.
The Best Camping Chair With a Footrest
My recommendation for the best camping chair that comes with a footrest is the Sport Brella. The footrest is adjustable, the backrest is adjustable, the huge umbrella canopy is adjustable, and there's a frickin' insulated cooler bag on one of the armrests. I mean, what else do you need for extreme comfort?